I'm sure, if you are like me, then you'll be installing each and every trending app to see what's actually crazy about this app. I have installed plenty of apps on both my smartphone and my tablet. Whether I'm actually using them on a regular basis or not is another question. But the thing is… we have been installing so many apps on our Android device and we don't really get time to figure out the most inactive apps. Now, I'll share a very simple tip to find out the most inactive apps on your device. It'll be easy for you to finalize whether you'll be needing them or not so that you can make a decision and uninstall them for good. Shall we go ahead?
[dcnote]Your Android Device Acting Weird? Find The Apps Which Are Responsible![/dcnote]
List Of Inactive Apps On Your Android Device
First and foremost, you need to become a developer. Yes! Android developer. It'll just take a few seconds, confused? You can read this post and come back here. 😉
Now, go to Settings, scroll to the bottom, under the section System you'll find Developer Options. Open that, and again, scroll to the bottom of the screen, under the Apps section you'll find an option called Inactive Apps, open that now.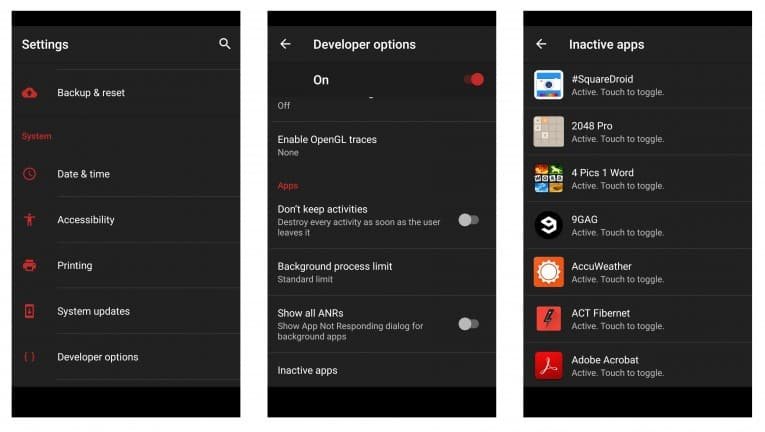 You can make them as 'active' or 'inactive' by touching (Touch to toggle). That's it. You get the list of all the inactive applications (apps) on your Android device, ever since you installed them.
[dcnote]Hey There! Here Is A Simple Way To Fix App Crashes On Your Android Device![/dcnote]
I'm actually quite impressed by seeing this list. It's like a checklist for me to uninstall unwanted apps and keep it minimal. Do try this on your Android smartphone or tablet and save some memory/resource for better performance.