Appy Festive Offer? What's that? Let us start from the beginning. It's been like more than 18+ years since Intex came into existence. It's the output of the hard work by Mr.Narendra Bansal, and today they are at this stage. And as we all know Intex is now a successful company which has got tons and tons of devices. There are many devices which are completely worth your pence, such as the Aqua Ace, Aqua star 4G, Cloud 4G Smart and what not!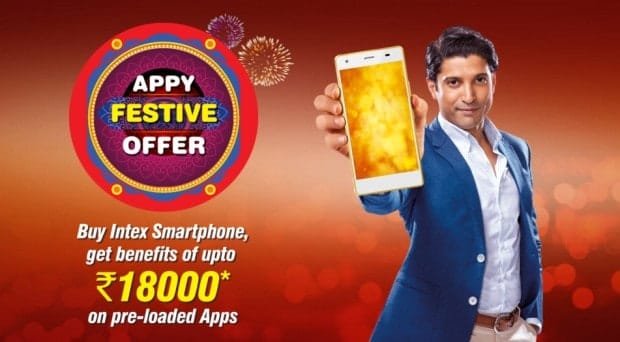 Now here comes the real deal guys, Intex is trying to give their customers something which is gonna make them more excited. For that Intex has started something new called as the 'Appy Festive Offer'.
Appy Festive Offer
The name sounds to be interesting right? Not only the name, the offers are going to excite you a lot. So Appy Festive Offer is basically an Intex only offer, that being said, you need to own an Intex device to avail this offer. Now before getting in detail regarding this, let me also tell you what all are the devices covered in this offer.
Devices Covered
Aqua Ace
Aqua Star 2 16GB
Aqua Colors
Aqua Star 4G
Aqua Young
Aqua Super
Aqua Cloud 4G Smart
Aqua Cloud Swift
These all are the special benefits which only the Intex users will be getting via Appy Festive Offer, so let's get started with the offers.
1. Saavn
Now when I say Saavn, probably the first thing which pops in your head is music! No matter whatever your mood is, everyone likes to listen to music, and Saavn is the best one, though. Now, what if I tell you can avail some really good offers if you're an Intex user. Yes, you heard it right, the offer is that now you can download unlimited music for free up to 6 months! Now how insane is that! The other features are:
Download music and listen it offline.
No ads at all.
High quality audio downloads.
No obligations.
---
2. Asphalt Nitro
Now here's where probably most of the teens are interested in! You've also got some great offers on games such as Asphalt Nitro! Now if you wanna get this offer, it's only possible through your Intex device. And the offer is, play the game Asphalt Nitro and get Rs.3000 game currency! And the best part is that the game currency is equal to 7lac worth game coins. What are you still waiting for, hurry up!
---
3. Nnischin
As most of the parents does, even you might be worrying about your children right? So now if you wanna monitor all the digital activities of your child, then Nnischint is probably the best one. And the best part is, if you own an Intex device, you get a free subscription of Nnischint for one year for free of cost. You can remotely manage and as well as schedule the usage of content and applications on your child's device. You can also create and safe zone and get all the real-time updates as well.
---
4. FreeCharge
Thinking to recharge, then think about FreeCharge. FreeCharge has become quite popular as the time being. Now each and everyone is recharging from their convenience. Now talking about the deal, buy an Intex mobile, activate your account and get a cashback of Rs.200! This might be really useful as you could save a couple of bucks on communication.
---
5. Cash Gain
Talking a bit about Cash Gain, it is India's first cash back app out there which gives you rewards, discount coupons, and cash back offers on online shopping sites as well. There are many options to get cash backs, you can download apps, you can also shop to get cash backs. Probably, this is the app which will let you earn while shopping.
---
6. Momagic Magicstore
If you buy an Intex device, you can get 15 games for free of cost which has got a worth of Rs.1,500. You can also get free games from Disney.
---
Tha'ts it! I'm sure you are excited about #IntexAppyOffer like us. So guys what are you still waiting for, grab your Intex device and avail this special offers. Go ahead and check out 'H'Appy Festive Offers!