When you travel you should be really focusing on exploring the place rather than getting addicted to the gadgets you own. That's true! But sometimes, to make your trip smooth and secure you do need some best travel gadgets. Battery backup, internet connection, safety tools, etc., all these are really essential to enjoy a satisfactory travel trip.
Personally I have used some of these gadgets, so I can assure you they'll be extremely useful for you when you are travelling a lot.
Useful Best Travel Gadgets List
All the gadgets mentioned here are not very costly, they are cost-effective and really essential for your overall use apart from travel use. I'll be updating this list whenever I experiment with a travel gadget. I have used both Flipkart and Amazon for buying the gadgets. But do check both the sites and pick the one which has the best price.
1. Portable External Battery Chargers
Honestly I don't go to any trip or tour without a portable battery charger. This is a life-saver. Even if my smartphone has a super smart battery, I'll still carry it since I use my mobile phone more than my laptop. I have Sony CP-F10L Portable Power Supply and Anker 2nd Gen Astro3 battery charger now. But I usually use Sony's charger often, it is more thin, compact and portable. Your smartphone usually has 4000mAh to 5000mAh battery power so pick a external battery charger which has at least 1000mAh.
USEFUL LIST: 5 Best Portable External Battery Chargers
---
2. A Pen Drive
A pen drive? :\ Well it is an easy replacement for an external hard disk/drive. You can easily carry it on your pockets and travel without any comfort issues. But memory space? I need to agree on this point that external hard disks usually have more space but we have a good competitor for them. Sandisk's Cruzer Glide 128 GB Pen Drive will be a good choice if you can invest some bucks. You can indeed carry a 128GB pen drive on your pocket, like you can save all those Full HD movies, musics, etc and access them whenever you want.
You can also consider buying a 128GB microSD card or compact flash card for your smartphones, tablets and cameras. You can just simplify your gadgets and make them as a single card.
You can buy Sandisk Cruzer Glide 128 GB Pen Drive on Flipkart and/or Amazon.
---
3. A Water-proof Phone
If you are a frequent traveller then you might be visiting places where the weather and climate are unpredictable. So if you enjoy those places even amidst the rain, then a water-proof smartphone will be a great choice. As of now, the best phone could be Sony Xperia Z2. Why the best? It is not just water-proof but it also has an incredible 20.7MP primary camera with 8x digital zoom. So you can even take pics when it is raining. Worth it right?
I'm using Sony Xperia Z1, so far, it is the best phone I have used, it even beats my previous phone – Apple iPhone 5.
You can buy Sony Xperia Z2 on Flipkart and/or Amazon.
---
4. Victorinox 4GB USB Key Ring Multitool
I love all the Victorinox gadgets! Who hates to own one of those awesome knives! If you want to own one of these, then I would suggest you "Victorinox 4GB USB Key Ring Multitool" Swiss army knife. This knife has a slim removable 4-GB USB drive, blade, scissors, nail file with screwdriver, retractable pen, and tweezers, all this on a key ring.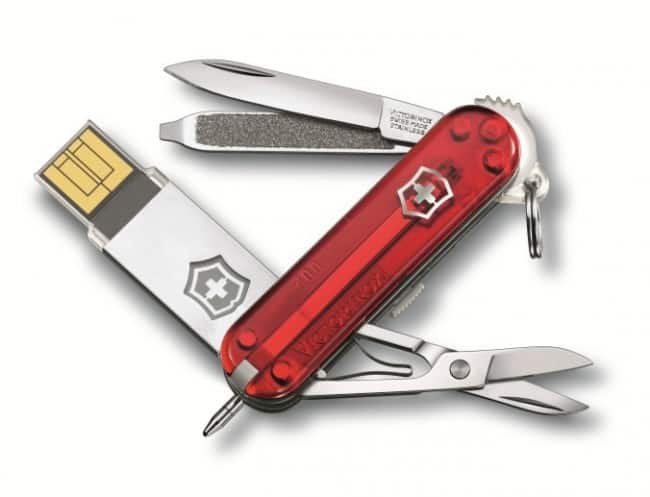 The Victorinox 4GB USB Key Ring Multitool will be available on National Geographic Shop.
---
5. 3G Data Card
If you are lucky enough, you can easily use your phone's internet connection as a portable hotspot but if the connection sucks, then you should be ready with a perfect backup. We suggest 3G data card for your internet connectivity when you are travelling. Personally I have tried Huawei 3G data cards and they are quite good. We even got more than 15mbps with Vodafone HSPA. They also have microSD Card slot which supports up to 32GB.
You can buy Huawei 3G Data Card on Flipkart and/or Amazon.
---
6. JBL Micro Wireless Speaker
If you are a music freak like me, then you'll probably find this worthy. Wireless speakers are really essential when you are partying or camping outside. We suggest JBL Micro wireless speakers which has Built-in Bass Port with 20 – 20000 Hz Frequency Response. You can party, dance hard, rock the night when you are camping out with your friends. This will work continuously for minimum 5 hours solidly.
You can buy JBL Micro Wireless Speakers on Flipkart and/or Amazon.
---
7. Surge Protector (or) Extension Cord
A surge protector (or surge suppressor) is an device designed to protect electrical devices from voltage spikes. If you are staying in some villages or any other similar places, then there is a high chance of frequent power surge, so with this device you can charge your devices safely wherever you go. You can also use this as a extension cord, like you can charge all your gadgets at the same time. I would recommend a 4 Socket Surge Protector since it will be little bit portable.

You can buy Belkin 4 Socket Surge Protector on Flipkart and/or Amazon.
---
8. Micro USB Car Charger
This is really a MUST have gadget if you own a car or any sort of similar vehicle. Micro USB Car chargers are really essential to charge your gadgets on the go. We recommend Capdase Revo T2 Dual USB car charger, it has dual USB ports, so that you can charge both your smartphone and your tablet at the same time. It also has an adjustable swivel ball.
You can buy Capdase Revo T2 Dual USB Car Charger on Flipkart and/or Amazon.
---
That's the end of my list as of now, meanwhile if you know any other best travel gadgets then kindly let us know in the comments below. We'll update this list with your name credit.