Now a days we frequently get to know that Startup Companies changing their concern from Website to mobile applications on the other hand there are many companies who still recognize the value of Web traffic and are paying identical attention to both the mobile and web applications. There some awesome examples where companies have shifted back from an app only model to both app and Website model.
Snapdeal has refurbished its complete online look. The new look is now available to all the users. Both the website and App have a brand new look. The main aim of this new look is to revive the user experience for mobile app plus website.
In the #NewLookForSnapdeal, the loading time of the page is reduced by 25%; crashes beneath 1% on mobile apps.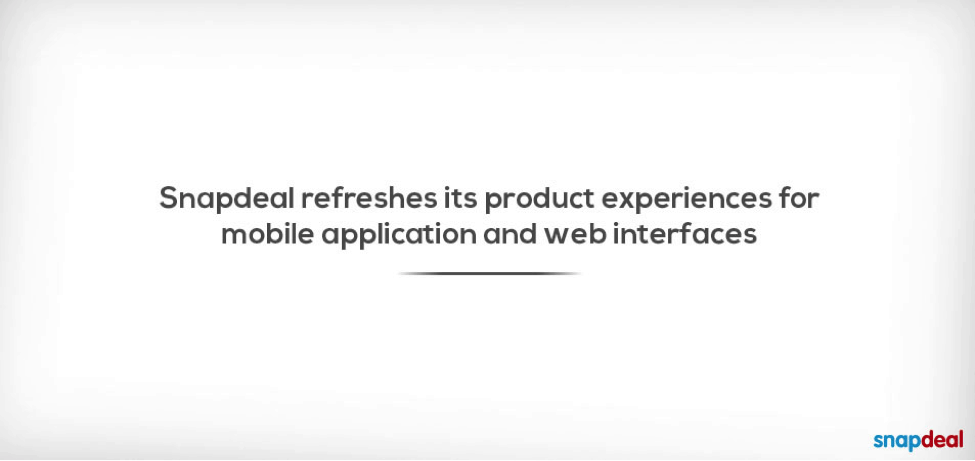 In this new design update, Snapdeal gave a innovative and bracing look to its website and mobile app to offer advanced user experience for Android, iOS and Desktop users. The new user interfaces are designed to create consumer pleasure with improved offerings. Snapdeal's brand new user interface is insightful and features easy to locate product information, grouping of the content by propose and access to all decision-making information in one view.
Anand Chandrasekaran, Chief Product Officer at Snapdeal commented that, "The center of Snapdeal's DNA technology and our vision is to build a world-class digital ecommerce platform. At Snapdeal we are doing very hard work to improve the user experience through our websites and the mobile experiences. The refreshed interface is designed to give our products an organized look, to make navigation easier and create more focus on visual elements that will highlight the over 12 million products."
"We have integrated customer feedback which has helped us vastly to design a product that will result in a richer and more personalized shopping experience. nowadays over 80% of Snapdeal 's first time users and 90% of post purchase customers recommend the apps to their family and friends. Going ahead, we will continue to improve and add new features to give our customers a incredible shopping experience. With a reduced application size of 6MB, improved performance on mobile with far fewer crashes and 25% faster page load on desktop, the refurnished user interface will now offer very handy, amplified and user-friendly platform. This will enable the consumers to make purchases in the first view of the page and condense the number of steps involved when buying a specific product. With the refreshed user interface, Snapdeal has recreated the traditional red banner in the background in errand of more white space with less distraction from ads and colors, and more focused on visuals and product information. This makes navigation more easier for consumers while navigating through various shopping categories to discover and choose products easily.
Salient features of the new user interface
Simple, modern and shrewd design stylish combination of colors, fonts and icons. Immense visual and information hierarchy with relevant animations.Material design philosophy.
Redefined information architecture
Brand new Visual, category specific navigation. New enhanced category grouping. Better access to navigation throughout the journey. Compact steps to reach the right product.
Improved discovery interface
Separate category and offer discovery feature. New dedicated search page with recent searches.
Bookmark favorite categories. Easy sort and filter actions on top of the page.
Intuitive consumer buying journey
The Product information pages are designed for easy visual navigation. All the decision making information in single view. Awesome checkout process.
Let's see how this great move of Snapdeal turns out to be for them.