There is a saying, "Having a good battery life is better than a good wife." LOL, sorry, I made it up. But that might be true for some, because having a good battery life is a tedious one these days. Whenever we use our gadgets we are always concerned about the battery life, we keep on looking at the battery bar to see how long it lives for the day. Isn't that the height of sadness?
Even a big brand like Apple is no exception for this. Apple's Mac line of products including iMac, MacBook Pro, MacBook Air, etc, they face battery problems too. But we can use some essential tips to overcome that and we are going to see them now.
Basic Tips To Improve Mac Battery Life
To improve Mac battery life you can perform the following steps. These are not advanced tips but essential tips which could be done by anyone having a basic experience with Mac OS X.
1. Reduce The Brightness Level
This is pretty much the basic tip everyone should follow. Majority of your Mac's battery will eaten by the screen brightness. So you need to reduce the brightness when it is not required.
Go to System Preferences > Display (under Hardware) and adjust the brightness.
---
2. Make Use of Energy Saver Option
I think it is essential to put your Mac to sleep whenever it is not in use. I used to take productive breaks, so keeping my mac on sleep mode was really helpful for me to save some battery life.
Go to System Preferences > Energy Saver (under Hardware) and adjust the sleep settings.
---
3. Turn Off Bluetooth
Most of us use the "Bluetooth" feature and forgot to turn it off. Does it matter? Yes, since it is a hub for connecting hardware sources it is capable of draining energy, so you disable it when it is not in use.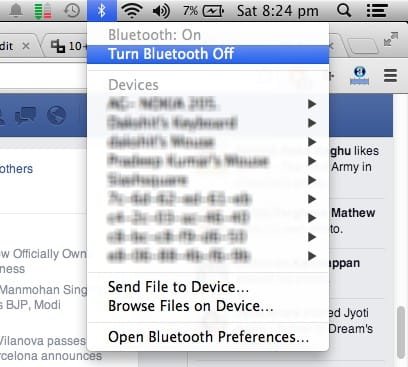 You can disable it by clicking the Bluetooth icon at the top-right corner (as shown in the pic above) and choose Turn Bluetooth Off option.
You can also go to System Preferences > Bluetooth (under Internet & Wireless) and disable it.
---
4. Turn Off Wi-Fi
Unless you are browsing the web, downloading or updating something, you can turn off Wi-Fi. This will save you a lot of battery life. I often do this when I'm watching movies or reading eBooks.
You can disable it by clicking the Wi-Fi icon and then choose Turn Wi-Fi Off option.
---
5. Turn Time Machine Off
Time Machine is a feature/utility from Apple to backup data easily, personally I love it a lot. But when your Mac is out of battery then you should probably turn it off because this feature consumes so much of power.
You can go to System Preferences > Time Machine (under System) and turn if off.
---
6. Adjust Keyboard Brightness
I love this feature on Macs! Those adorable lights on keyboard (backlit keyboard) are cute but they also consume a lot of battery life when you use them to the fullest. So you can reduce their brightness when you are using them on daytime or when you are watching movies, etc.
You can go to System Preferences > Keyboard (under Hardware) and adjust the settings.
---
7. Close Unused Applications
Sometimes without our knowledge there could be several applications running in the background. Or even we would have used an application but after using it we would have forgotten to close it. There are many instances like these. This will affect the battery life badly.
You can use Activity Monitor to see the running applications and you can close the ones you are not using.
---
8. Calibrate The Battery
Even Apple agrees with this, you can calibrate your Mac's battery for best performance.
According to Apple, "The battery needs to be recalibrated from time to time to keep the onscreen battery time and percent display accurate and to keep the battery operating at maximum efficiency. You should perform this procedure when you first use your computer and then every few months after that. If you normally leave your Apple portable computer connected to AC power and very rarely use it on battery power you may want to perform this process once a month."
Note: Apple also mentions that their current portable computer batteries are pre-calibrated and do not require the calibration procedure.
---
9. Eject Disks
If you are going to watch a movie via CD/DVD or Pendrive, then you can better copy them on your hard drive and watch them instead of watching them directly via those sources.
Also, disconnect any hardware devices when they are not in use, especially pendrives, CD/DVD, external hard drives, etc. These simple things matter the most at the end.
---
10. Check Your Battery Condition
There is a simple tip to check your Mac battery condition, just hold down the option key and click on the Battery Status Icon (at the top) to access the Battery menu bar extra.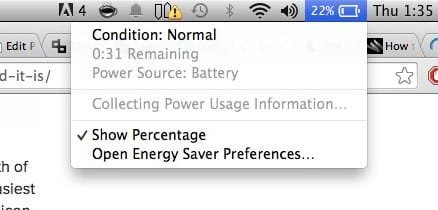 It tells you whether your battery is working properly or not. There are 4 possible conditions for your battery life and you also check the Mac Battery Cycle Count to see how long it lives.
---
11. Always Have Your Mac OS X Updated
With each and every update Apple tries to improve the battery performance, so it is better to have your Mac OS X updated with the latest version.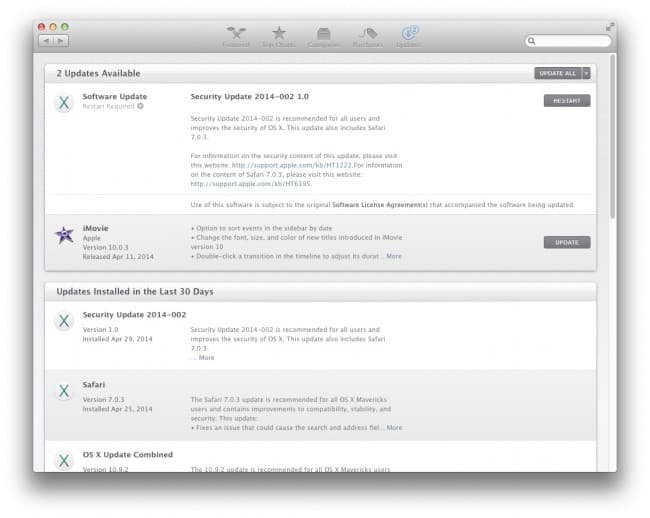 ---
Additional Tips
Below I have added some additional tips for saving/improving your Mac Battery Life. These are just some random miscellaneous tips.
12. Enable "Show Percentage" Option
This feature will help you to show the exact battery life so that you can decide to allocate time for your works.
---
13. Use A Cooling Pad
Excessive Heating could also be a vital problem for draining a battery's power. But using a cooling pad will solve it. It will help your Mac to conserve energy and keep it cool as well.
Personally I would suggest Belkin Cooling Pad, you can check it on Flipkart (India) or on Amazon for the features.
---
14. Enable Private Browsing
Never really tried it and saw any big improvement but using Private Browsing feature on browsers (more or less, they say Safari works well) could help you to save some battery life. Why? Because it won't access the memory to cache data.
---
These are the basic essentials tips we use to improve Mac battery life, if you know any other good tip, kindly share it in the comments below, we'll add them here with your name credit.