This was a predicament I was faced with, during my recent visit to an electronic mega store. I needed to purchase an Air Conditioner, with my knowledge of Air conditioners being fairly negligible and the feedback from friends being as varied and unconvincing, it was decided that a visit to a store with a live demo and Q&A sessions might help. Although there was an allocated budget, out of habit I generally asked the sales person to show me the best they have on offer in the store. This invariably helps get an understanding of what goes into the making of the best, and thereby have a comparison point for the rest.
So, Is This Your Best AC?
The sales person smirked with attitude, a smirk that normally says "yeh koi question hai poochne ka", without actually saying it.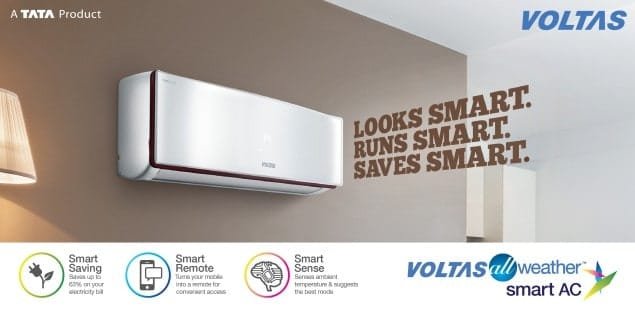 "Yes sir, this is the All Weather smart AC by far the best product introduced by Voltas. It is one of those rare Air Conditioner, which works in all types of weather. Be it an extremely hot day, or a freezing cold night, this astounding Air Conditioner will always be at your rescue. 'Voltas', offers a varied range of AC's depending on one's budget, however if one has to consider the long term benefits of both cooling and heating, and 63% power savings on future bills, they should most definitely consider the new Inverter AC range.
All Weather Smart AC is a feature rich Air Conditioner, and is equipped with latest technology. The AC features Insta cool compressor, and Smart dehumidifier for delivering excellent cooling. The Turbo Mode of the AC is capable of cooling the room in just a few minutes. It literally increases the air flow, for delivering quickest cooling time. The 'All Weather Air Conditioner' comes with an advanced filter which is capable of protecting you from harmful bacteria and virus. The filter clears the air by eliminating the dust so that you can enjoy the fresh cool and clean air, a feature that everyone prefers after a long day from work. The Brand is also offering amazing exchange offers, and deals such as a 0% finance scheme to a 'no limit' on down payment, there's much that they can customise for you, to ensure you adapt the right choice. Surprisingly, The Brand doesn't even ask for any type of processing fees or extra cost.
The best thing about 'Voltas All Weather Air Conditioner', is its high energy savings, smart remote and smart app remote feature. The smart remote app offers convenient access to the AC controls through ones handset. If my memory serves me right, those were nearly the exact words of the sales pitch and he said it with a fair amount of pride and conviction. Perhaps, this best selling product does have a lot to consider.
An AC So Smart, It Tells You How To Use It Efficiently
"Sir, do you use a smart phone?" I said yes, I do.
He said, "that's fantastic because there are many good reasons to choose 'Voltas All Weather Smart AC', over other brands in the market, however the most exciting reason is it's All Weather smart AC Mobile App. Yes, that's right! There is actually a mobile app which provides you weather information, and suggests the best mode for the Air Conditioner. The app also acts as a power calculator, and can compute the precise power consumption, by the Air Conditioner. Thus helping reduce electricity usage and saving you nearly 63% on bills, and for the same reason, the brand was awarded with the 'National Energy Conservation Award' by our President Pranab Mukherjee. Above all, it also works as a remote control for the AC. Your house will get smarter, and your phone will be the brain.
He then went about demonstrating, and showing off the app by operating the AC with his smart phone.
Don't we all love swank and smart gadgets but how many of us know how to use them to their full potential? Well this AC just sorted that problem out for me.
For those still not convinced:
The Voltas also offers excellent after-sale service, and you can easily locate a Voltas Store for any support regarding your Air Conditioner. You can also connect with their 24×7 customer service, by simply dialling their toll-free number: 1800-425-4555.
Voltas 'All Weather Smart AC', is a marvellous piece of technology, which offers some unique and useful features. It's eco-friendly R410 refrigerant, ensures that the AC does not cause a damage to nature, like other Air Conditioners. It definitely is a brand, which you can trust and try for yourself, to experience its benefits. Having said that, I pre-ordered my 'All Weather Smart AC' today, and I think I will have more to talk about it in a week (post installation), until then, I suggest you check it out yourself at the nearest electronic mega-store.