If you own an Apple product then you should aware about its warranty status, like when it is going to expire. It gives you a chance to get AppleCare if you still love your Apple device. You don't need to go to your Apple showroom or call anyone to check your product's warranty status. You can easily do it online with just a click if you know the serial number of your product. A serial number is like an ID tag for your product, just like a phone number or PAN number. Each and every Apple product will probably have one. In this article I mentioned the steps to find the serial number and check the warranty status of an Apple product as well.
Finding Your Apple Product's Serial Number
For Mac Devices: 5 Easy Ways To Find The Serial Number Of Your Apple Mac
For iOS Devices: How To Find The Serial Number Of Your Apple iOS Device
Check The Warranty Status Of An Apple Product
Go to the Apple Self Solve page and enter your Apple product's serial number. Here I entered my MacBook Pro's serial number and found the warranty status.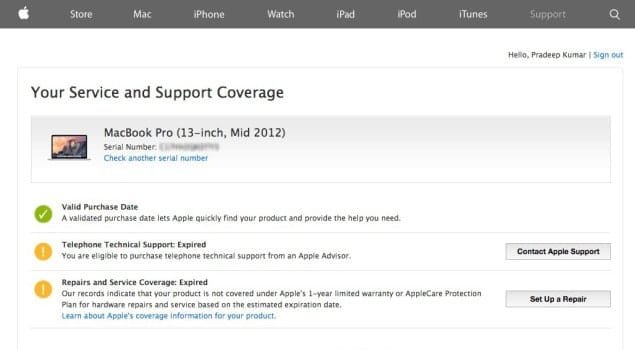 With this you can review your Apple warranty status and eligibility for support and extended coverage.
Hope you find this simple tip useful. Do let us know your views in the comments below or if you have any issues with the steps kindly let us know as well.