I hope you are aware about the Messages bug that was hitting Apple iPhone few days back. It was a bug with a weird string of texts (or a specific series of unicode characters), when you receive it as a message, then your iPhone will reboot and the Messages app will crash continuously. Some of my friends faced this. Some experts and developers said this bug causes processing errors by which the messages are getting crashed.
Apple acknowledged this and provided a temporary solution for this on their support page. They said they will make a fix available in a software update. Until then, you can use these steps mentioned below to re-open the Messages app.
Apple Messages Bug – Temporary Solution
Taken from the Apple Support page, you can follow these 3 simple steps to re-open the Messages app in your iPhone.
1. Ask Siri to "read unread messages."
2. Use Siri to reply to the malicious message. After you reply, you'll be able to open Messages again.
3. In Messages, swipe left to delete the entire thread. Or tap and hold the malicious message, tap More, and delete the message from the thread.
This looks like a serious bug and I hope Apple provides a quick update to restrict such bugs in the future. We shared a screenshot below, this is how the Apple Messages bug looks like. If you see something like this in your iPhone messages, feel free to avoid and follow the steps mentioned above.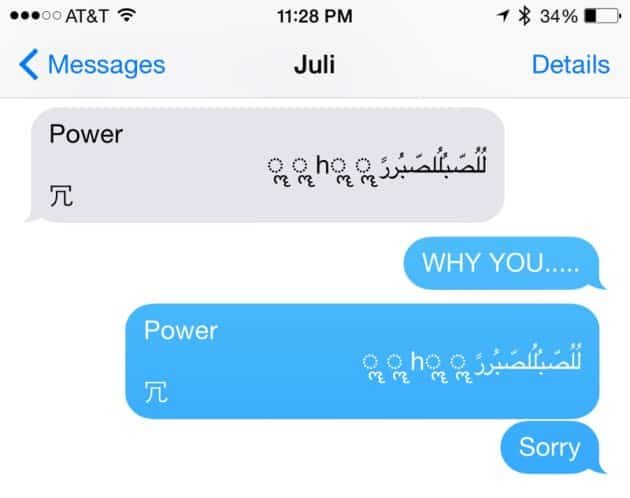 Are you facing this messages bug? Have you tried this solution? Do let us know your story in the comments below.
VIA: APPLE SUPPORT